Welcome to Huber Farms
Refrigerator/Freezer Trailer for Sale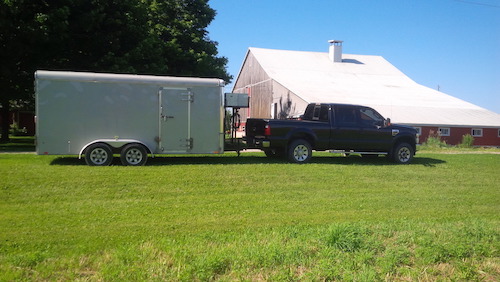 This trailer was built by United Trailers Inc. on April 30, 2013 and upgraded to a refrigerator/freezer trailer May, 2014.
Keep your vegetable cool and fresh for sale at the market.
Keep fresh meat products below the critical 4 degrees Celcius while making deliveries.
Keep or freeze your products at -18 degrees Celcius
Rent out for special events like wedding, fund raisers to keep food and drinks cold
Moving? Works for transporting dry goods too.
Description
Model Year: 2013 (Updated to Refrigerator/Freezer 2014)
Manufacturer: United Trailers Inc.
Model: Expressline
Type: Trailer - Cargo
Make: Jensen Expressline Custom Trailers
Model: JenPro-716TA52-8.5T
Size: 16' L x 7' W
Axles: (2) 5200 lb (2360 kg)
Suspension: Torsion
Stoneguard: 24" height
Color: Stone Grey
Rounded Front
Sprayed 2 inch insulation (wall and ceiling)

Floor insulated 1.5 inch styrofoam
Screwless Skin, Bonded on Seams
Box Length Inside: 16 ft 4 inches
Box Width Inside: 6 ft 6 inches
Interior Height: 6 ft 4 inches
Upgraded Rear Door Barn Doors double hinged
Upgraded Curb Door double hinged
Upgraded Wheel: 225/75R15 E Aluminum Wheels
2 5/16" Coupler
GVWR: 9900lb (4535 kg)
(2) Dome Lights w/Wall Switch
Upgrade: White food grade sheeting

Linoleum flooring
Exterior LED Lighting
Russel Freezer unit 1.5 HP c/w matching evaporator and thermostat

+10 to -18 Degrees Celcius (+50 to 0 Degrees Fahrenheit)

Twenty-five foot extention cable with plug
Also included pigtail and receptical
Power supply: Needs 30 amp double pole breaker
Mobile Power supply: Minium 6500 watt continuous 8000 watts startup

However pricing a new trailer, searching online dealers, with specs similar to the one we have for sale list around $16,000.00. 

The compressor and evaporator unit the same size as the one for sale cost us just about $11,000.00.  It cost about $3,000.00 for materials to insulate our new trailer which is about the same size as the one for sale not counting labour (we work for nothing ;-)).   So you could purchase a cheaper lighter trailer or a used one for less than $16,000.00 but the $14,000.00 for the refer unit and lining and insulating materials won't change that much for that is the current price here locally.  $30,000 or maybe a couple of thousand less no labour counted would step you up with one doing it yourself.  I think the price we are asking is a fair price to start negotiations at.